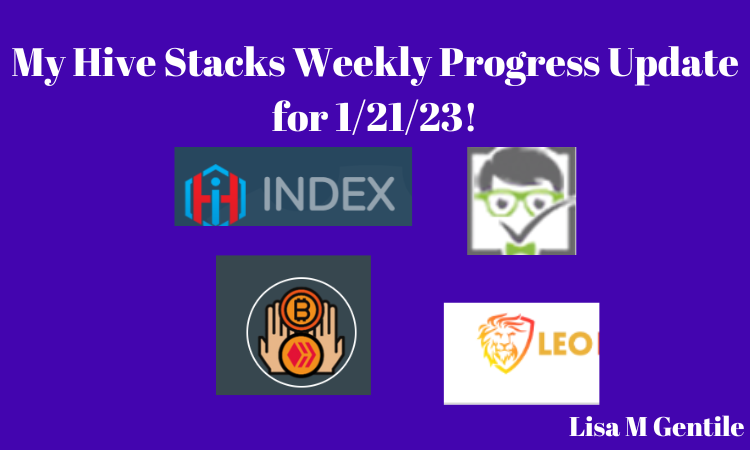 This and all Images Created in Canva
Another nice quiet weekend around here
That never bothers me.
The quieter the better.
Going to jump right into my progress report for this week.

Two Buy Days This Week!
1/15: Invested an extra 15 USD on Litecoin on 1/15 to trade and get enough Hive to buy Leo and power up 150 Leo for LPUD.
I sent $13.35 USD worth of Litecoin to Blocktrades.us to trade for Hive.
Received 37.595 Hive and deposited it to Hive Engine for Swap.Hive using the Swap feature on HivePay.io.
I got 37.520 worth of Swap.Hive after a fee of 0.075
1/19: Did my regular weekly buy a day early this week. Dad had a Dr. appointment on Friday so I wanted to be done ahead of time.
My fiat investment was 16 USD and I received 14.37 USD worth of Litecoin to trade for Hive tokens using Blocktrades.us.
Received 39.856 Hive from Blocktrades and used the Swap feature on Hivepay.io to deposit them to Swap.Hive in my Hive Engine wallet. Deposit was 39.776 after a fee of 0.080 Hive.
Did a few more trades and ended up with 39.96056379 Swap.Hive to invest


HE-INDEX
Total from 1/14: 3258
1/15: Bought 4 more at 0.41996999 Swap.Hive each
New total: 3262
1/18 Bought 2 at 0.43999979 Swap.Hive each
New total: 3264
1/19: Bought 40 from my weekly fiat investment at 0.4 Swap.Hive each
Only part of the order (7 INDEX) closed bringing me to 3271 HE-INDEX. Cancelled the remaining open order of 33 INDEX.
Put in a new buy order for 33 more INDEX at 0.42997989 Swap.Hive each.
That order completed and closed bringing me to a new total: 3304
Increase of 46 (1.41%) HE-INDEX tokens
4,696 away from goal of 8000 HE-INDEX
My math was incorrect last week.
41.3% of my goal is achieved.


LEO
Total from 01/14 : 845.528
1/15: Today is the first Leo Power Up Day for the year 2023.
I found out in this blog post from @hivebuzz, that in order to get the badge I need to power up 150 not 100. I bought 200 more Leo at 0.16944 Swap.Hive to add to what I already had.
Starting with 101.846 liquid LEO today
So I powered up a total of 301.846 LEO for the first LPUD of 2023
New total: 1147.374
Definitely earned the first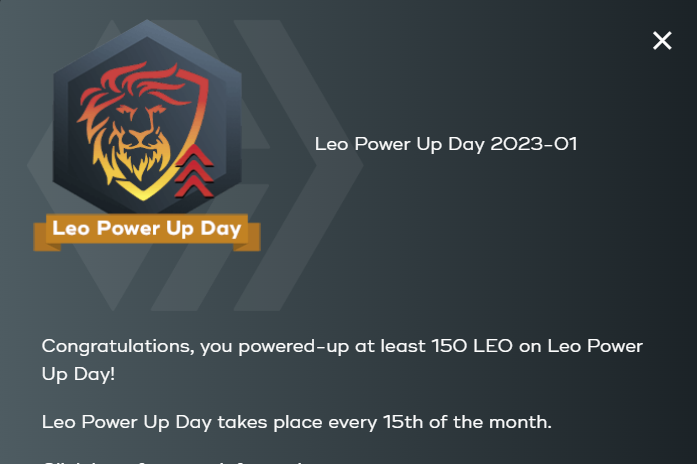 for this year!
1/16: Staked 1.328 New total: 1148.702
1/17 Staked: 1.352 New total: 1150.054
1/18 Staked: 3.337 New total: 1153.391
1/19 Staked 1.429 New total: 1154.82
1/20: Staked: 1.467 New total: 1156.287
1/21: Staked: 1.496 New total: 1157.783
312.255 (~37%) increase in staked LEO this week
2,842.217 away from initial goal of 4000 staked LEO
~29% of goal achieved


BBH
Total as of 1/14: 1750
1/15: Earned 3 more BBH from bbhbot so starting today with 1753 BBH
Bought 3622 at 0.00063 Swap.Hive each
New total: 5375 which brings me to Level 2 for tipping and allows me to tip 5 each day.
Hit and surpassed goal of 5000 BBH
Setting new goal of 20000 BBH which is tipping Level 3
1/17: Earned 1 BBH token yesterday New total: 5376
Bought 750 at 0.00063 Swap.Hive each New total: 6126
1/18: Earned 1 BBH token yesterday New total 6127
Bought 1319 at 0.00063 Swap.Hive each New total: 7446
1/19: Bought 12554 at 0.00063 Swap.Hive each to get me to Level 3 which is 20000 BBH holdings and allows me to send 20 BBH tips per day
New total: 20000
1/20: Earned 1 BBH New total: 20001
18,251 increase in BBH tokens this week.
Bought heavily because it is very affordable for me right now and I like grabbing the low hanging fruit.
My next goal is to get to: 30000 BBH
9,999 BBH away from that
~67% of goal achieved


LISTNERDS
Total as of 01/14: 101260.118
1/15: Claimed and staked: 27.732 New total: 101287.850
Won 10 LISTNERDS while reading Emails New total: 101297.850
1/16: Claimed and staked: 27.740 New total: 101325.590
1/17: Claimed and staked: 123.138 (95.369 from email sent on 1/9 that was verified and paid and 27.769 earned passively from staked LISTNERDS tokens)
New total: 101448.728
1/18: Claimed and staked: 27.782 New total: 101476.510
1/19: Claimed and staked: 55.583 New total: 101532.093
Bought 3115 more at 0.00484188 Swap.Hive each and transferred them to the ListNerds site so I could stake them.
New total: 104647.093
1/20: Claimed and staked: 28.666 New total: 104675.759
1/21: Claimed and staked: 28.664 New total: 104704.423
3,444.305 (3.4%) increase in staked LISTNERDS
95,295.577 away from next goal of 200000 staked LISTNERDS
52% of goal achieved


CTP Power on CTPtalk
Not staking CTP until after the launch of the new project that is coming up.
That is all for this week.
Enjoy your day and the rest of the weekend.
See you next time.