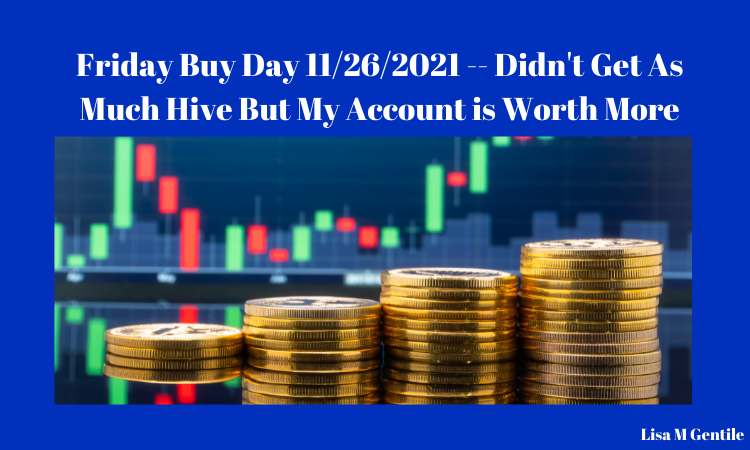 Got a late start on my Buy Day activities today. Yesterday was Thanksgiving Day here in the United States so I was not online most of the day.
During the Brief Time I Spent Online Last Night I Saw the Price of Hive Had Gone Up Over 3 Dollars Each
As a result I knew that I wasn't going to get as much for my weekly investment but what I already have is worth more. When I logged on to my computer this afternoon I noticed that the Hive price had come down a bit from last night. I logged into Coinbase to start my weekly purchase of Litecoin to transfer over to Hive. On my Coinbase dashboard I noticed that there was an opportunity to earn 3 more dollars watch some videos. That made up for the fees that it was going to cost for the transfer.
The Hive got Sent to My Wallet Really Fast Today
I went in and sold some other tokens and ended up with a little over 20 or so Hive to swap. My purchase today included around 17 HE-Index Tokens and 2 More Chaos Packs. That brings my total holdings of each one to 564.56969567 HE-Index and 6 Chaos Packs. This is pretty exciting stuff for me.
My Other Two Goals: CTP Power and Hive Power are Doing Well Too

My Dolphin dream for Hive is close to 83%. If I can get my XTM to ETH to Hive transfer done I might get to 5000 Hive Power by the end of the year. I am not sure about paying more gas fees to do that. Still thinking about it. Not out of the question.

My CTP Power is at 99% of my 50,000 Goal. There is another CTP Staking Contest starting on December 1st and hosted by the CTP Swarm Booster tribe. Pretty good bet that I can get to my 50K CTP Power goal by the end of that challenge. It goes until December 22nd.
So that is all for this week's buy day update. Next week we will be into the last month of the year. Hard to believe.