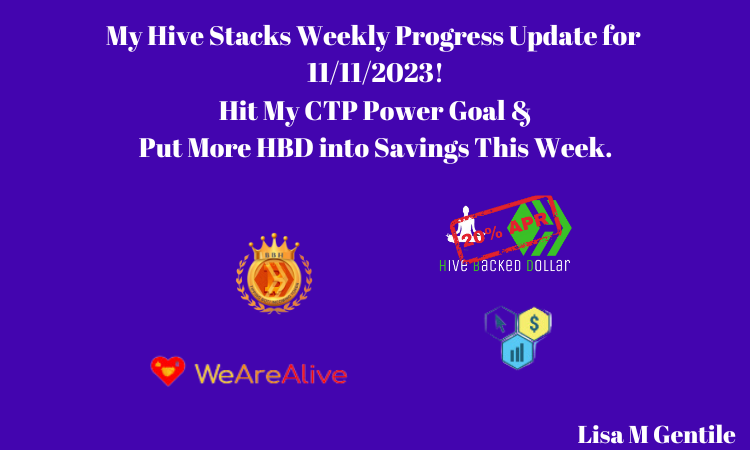 Image created in Canva
Saturday Errands
Saturdays are my LEAST favorite day to run errands.
But we only had a couple of stops to make and they went more quickly and smoothly than I expected they would.
And the traffic cooperated as well so that was another win.
At least it is nice and sunny with a brisk fall chill in the air.
And now on to the reason for this post
My weekly Hive stacks progress report

Friday Buy Day 11/10
Started with 1.09680155 SWAP.HIVE
I made my weekly purchase of $16 USD worth of Litecoin and sent $14.32 USD worth of Litecoin to SWAP.LTC on Hive Engine.
I received 0.19734886 SWAP.LTC and traded it for 38.68899405 SWAP.HIVE
39.87609326 SWAP.HIVE in my wallet
Then I traded a few other tokens to get to just over 40 SWAP.HIVE.
I withdrew 20.00118734 SWAP.HIVE to liquid HIVE to buy HBD to add to my savings.
I sold 19.851 HIVE for 7.401 HBD and put it into savings
My total HBD savings are at 50.814 HBD
No goal is set for saving HBD yet. I will keep building it whenever possible.


CTP Power from CTPtalk and ListNerds
Total from 11/04: 97,993.282
11/05: Staked: 43.047 New total: 98,036.329
11/07: Staked: 105.944 New total: 98,142.273
11/10: Staked: 116.292 New total: 98,258.565
Another 45.919 CTP in my wallet in the afternoon
Bought 2200 more at 0.00140002 SWAP.HIVE each for a total of
3.080044 SWAP.HIVE
Staked 2,245.919 New total: 100,504.484
Reached and surpassed my goal of 100,000 CTP Power
11/11: Staked: 10.808 New total: 100,515.292
2,522.01 (~2.6%) increase in CTP Power this week
Set a new goal of 200,000 CTP Power
50% of that goal is achieved this week.


LEO
Total from 11/04: 4,271.149
11/05: Staked: 3.414 New total: 4,274.563
11/07: Staked: 3.978 New total: 4,278.541
11/10: Staked: 5.749 New total: 4,284.290
11/11: Staked: 4.089 New total: 4,288.379
17.23 (0.4%) increase in LEO Power this week
3,711.621 away from my goal of 8000 LEO Power
~54% of my goal is achieved this week


BBH
Total as of 11/05: 266,661
Haven't done anything here since around the middle to end of September
New total: 280,030.5
11/11: 280,030.5
13,369.5 (5%) increase in BBH token holdings this week
19,969.5 away from my goal of 300,000 BBH tokens
~93% of my goal is achieved this week.
Received my weekly rewards for holding BBH tokens from @bbhbot:
10.8083 ALIVE
2.279 LEO
0.50621245 SWAP.HIVE


ALIVE
Total from 11/04: 7,547.1613
11/05: Staked: 2.8516 New total: 7,550.3129
11/07: Staked: 4.9603 New total: 7,555.4732
11/10: Staked: 5.5585 New total: 7,561.0317
Bought and staked 100 ALIVE at 0.037 SWAP.HIVE each for a total of 3.7 SWAP.HIVE
New total: 7,661.0317
11/11: Staked: 12.1912 New total: 7,673.2229
126.0616 ( ~1.7%) increase in ALIVE Power this week
2,326.7771 away from my goal of 10,000 ALIVE Power
~76% of my goal is achieved this week