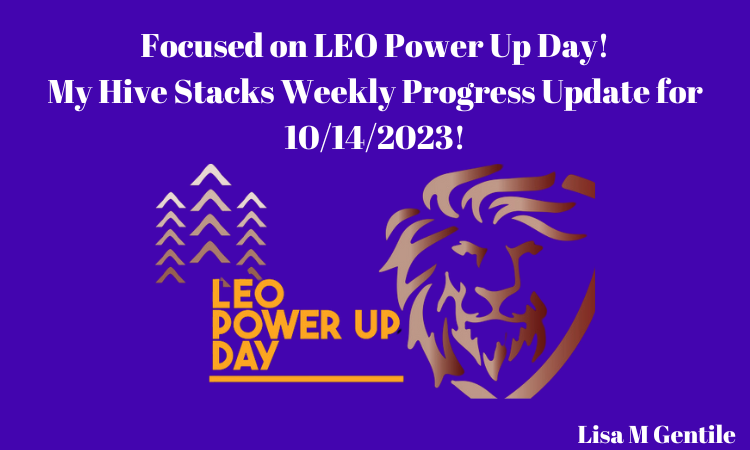 Image created using Canva.com
Happy Leo Power Up Day for October 2023
Yes, I chose to post my weekly update a day late for that reason.
Also, we were out part of the day yesterday.
A friend of my parents' passed away and we went to the funeral.
We've known these people like family for most of our lives.
I actually had a good bit of this post done before we left and just chose to wait till today to publish it.
I will go back to my regular schedule this coming week.
Anyway, on to the reason for this post.

Friday Buy Day 10/13
Started out with 0.96580575 SWAP.HIVE in my Hive Engine Wallet
Invested my weekly $16 USD in fiat to buy Litecoin.
I received $14.37 in Litecoin after the fee.
Deposited it to SWAP.LTC on Hive Engine
I got 0.23248788 SWAP.LTC which I traded for 48.83175151.
Total of 49.79755726 SWAP.HIVE which I used to invest in LEO for LEO Power Up Day.


CTP Power from CTPtalk and ListNerds
Total from 10/07: 96,623.187
10/09: Staked: 97.844 New total: 96,721.031
10/12: Staked: 282.147 New total: 97,003.178
10/13: Staked: 56.971 New total: 97,060.149
10/13: Staked: 44.934 New total: 97,105.083
481.896 (~0.5%) increase in CTP Power this week.
2,894.917 away from my goal of 100,000 CTP Power
97% of my goal was achieved this week.


LEO
Total from 10/07: 3,787.642
10/09: Staked: 5.047 New total: 3,792.689
10/12: Staked: 6.096 New total: 3,798.785
10/13: Staked: 2.152 New total: 3,800.937
Bought 415 LEO Tokens for 0.12 SWAP.HIVE each and total of 49.8 SWAP.HIVE.
Haven't staked them yet because LPUD is not until after 7 pm CST where I live.
When I do stake them I will surpass my goal of 4000 LEO Power.
10/15: Staked: 421.468 New total: 4,222.405
434.763 (~11.5%) increase in LEO Power this week.
Hit and passed my goal of 4000 LEO Power.
New goal: 8000 LEO Power
3,777.595 away from my new goal.
~53% of my new goal is achieved


BBH
Total as of 10/09: 266,656
Total as of 10/13: 266,657
I received my drops of ALIVE, LEO and SWAP.HIVE from @bbhbot for holding BBH tokens
Rewards this week:
ALIVE: 11.6821
LEO: 2.435
SWAP.HIVE: 0.54949531


ALIVE
Total from 10/07: 7,422.6181
10/09: Staked: 10.753 New total: 7,433.4711
10/12: Staked: 5.8177 New total: 7,439.5888
10/13: Staked: 3.123 New total: 7,442.7118
10/14: Staked: 13.76 New total: 7,456.4718
33.8537 (~0.5%) increase in ALIVE Power this week
2,543.5282 away from my goal of 10,000 ALIVE Power
~75% of my goal is achieved this week

That is all for this week. You have until midnight to power up at least 10 LEO to participate in this month's power up day.
Here is the link to a time converter to see what UTC is in your time zone.
World Time Buddy