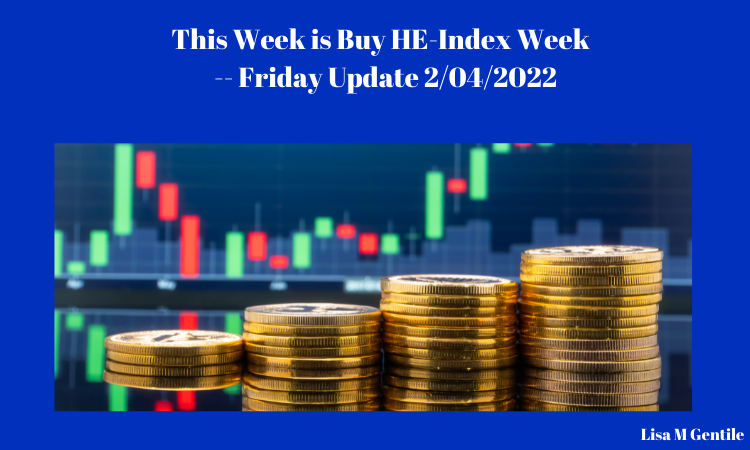 Last Week I Bought and Staked Hive
But this week the focus is back on increasing my HE-Index Holdings.
There was already just over 3 Swap Hive in my Hive Engine wallet from selling other tokens yesterday. I bought 10 Hive with my fiat investment and traded 0.055 HBD for 0.051 Hive. I used HivePay Swap to deposit all of that into Hive Engine.
My HE-Index holdings were at 1310.320 last week at this time. I bought 18 more HE-Index this week. So now I have 1328.302. The first buy I did tried didn't go all the way through. I was able to buy 2 more Index at the bid I used and the rest was sitting in the Open Orders.
I ended up cancelling order and offering a little bit more to get the order to go through for 16 more Index. I am not sure how it might have taken to get it to go through otherwise.
Next Goal: 1500 HE-Index Tokens
Last Week's Holdings: 1310.320
This Week's Holdings: 1328.302
Percent Increase From Last Week: 1.3723%
Percent of 1500 HE-Index Goal: 88.5%
Claimed Hive Power Rewards This Week
My Hive Power holdings grew a little bit from curating and commenting on posts. My HP was at 4,476.790 HP. This week I have 4,486.628 HP.
Next Goal: 5000 HP
Last Week's HP: 4,476.790
This Week's HP 4,486.628
An increase of 9.838 or about 0.2197%
Percent of 5000 HP Goal: 89.7%
Truth Time!
I had to get help from my husband to do the math for the percent increase. He is a very patient man. I was math phobic all through school. When I went back to college I took enough Algebra to get my requirement in for the University. I declared History as my major so I really didn't need a whole lot of math for that. We were allowed to use calculators even during tests at that time.
When I went back to the same University in 2016 to try and get yet another degree, I had to take the same math classes over again. But they weren't allowing students to use calculators. It was advised for the homework that we not use them and they were forbidden to be used on the tests. Who the heck does math without a calculator? Not me!
I ended up deciding against getting another degree that I didn't need and probably would never use. Not just because of the math. Partly because of that. But it was more about the simple truth that I didn't need to add another headache in my life and another 4 or more years of school in my 50s. Besides I like being here on Hive and learning the way I am now. Not for a degree or grades, but for the pleasure of learning new things.
That is All I Have For This Week's Update!
We did get a couple of nice letters from Internal Revenue Service today. Just letting us know that the Stimulus money we received will not be counted as taxable income. We don't have to report it. Yay for that. It's unusual to get good news like that from them. Have a great weekend and week ahead.