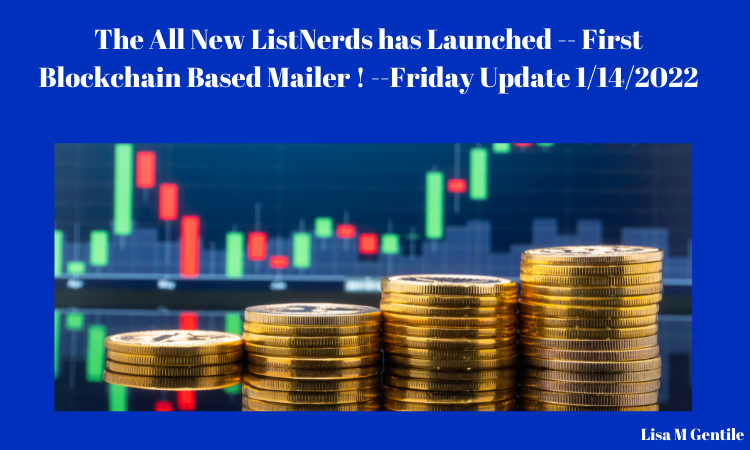 List Nerds Has 3 tokens and 3 Ways to Earn
Two of them are crypto, ListNerds tokens and CTP tokens and the other one is Mail tokens. Mail tokens can be bought or earned. Each Mail you accumulate allows you to mail one ListNerds member. Or if you don't have time to open mails and click on links you can simply buy Mail tokens.
ListNerds is the primary token of the mailer platform. It can be purchased on Hive Engine or another exchange then transferred to ListNerds and staked there to earn passively. Or you can earn it by verifying emails from other members with an upvote. ListNerds is the only place where you can stake ListNerds tokens.
CTP tokens are also needed to take part in the rewards at ListNerds. Those are the tokens that you earn from blogging and curating on the CTPtalk blogging platform. You need to have liquid CTP to import to ListNerds and stake it to give you more voting power.
I have powered down some of my CTPtokens so that I can transfer them to ListNerds and stake them to get more voting power and earning power. If you want to do this, it only takes 7 days to power down and get liquid CTP to move it over. For every 5000 CTPtokens that you tranfer into and stake on ListNerds you will earn an airdropped ListNerds token. The ListNerds token will be airdropped to your staked ListNerds so you don't have to do that manually.
Please Keep in Mind
If you transfer and stake CTP tokens in ListNerds to get the airdropped ListNerds tokens, your CTP will be locked for 10 weeks. That is to prevent people from staking CTP tokens to get the airdrops of ListNerds and then unstaking and staking them again to get more ListNerds.
Here is the replay of last night's Thursday Night Live — The List Nerds Launch where Jon and Blain go over in great detail how to navigate and use List Nerds.
After the ListNerds Overview Prizes Were Awarded
The top three people who purchased ListNerds tokens prior to the launch were had their names put on a prize wheel to win one of 3 prizes. Congratulations, to Mike Dell, Charletta Allen and Hariton Mukadafe. Check out the video starting at around minute 44 to see what they won. The three prizes were: a one year upgrade to the Business Level Membership of ListNerds, a 5000 Hive Power delegation, and a Gold Foil Legendary Chaos Legion Card. And the prizes were given randomly which made it more interesting and fun.
Finally My Update For This Week
Hive has been staying over a dollar for weeks now. When I did my dollar cost average purchase this morning it was just under $1.30 per Hive token. So, after fees on Coinbase from transferring and trading I ended up with a little over 8 Hive tokens. With what was already available in my pegged Hive on Hive Engine I had a little more than 10 Hive to buy my tokens this week.
I am focused on increasing my Hive Index holdings to my next goal of 1500 and getting to Dolphin Status on Hive.

I want those Index tokens for the passive income. Index is an income token. Just buy them and hold them to earn from all the tokens they purchase. This is really my first experience with earning passive income and I am enjoying earning the tokens and reinvesting them to get more. The returns are way more than you can earn from a regular bank. It's really a no brainer.

At 1227 Hive Index tokens, I have 85 percent of my 1500 Hive Index token goal. It won't stop there.
Hive Power Dolphin Goal

As you can see I am getting ever closer to my Dolphin status. I just keep chipping away at it. My next plan is to get to the 1500 Hive Index put that on hold and dollar cost average as well as earn my way to Dolphin. I am at around 89 percent there or 566.434 Hive Power away. Hive is at $1.31 each so it would cost me $742.03 to buy it all right now. Not going to happen. If the price of Hive stays the same, doubtful, but if it did, it would take me another 14 months at 50 dollars per month to get there. Not willing to wait over another year to get there.
I either have to bump up my buy in or do a whole lot more creating and curating than I have been. Or both.
So, that is all for this week's update! Have a great week and see you next week!