Before We Moved Out of the Apartment
I boxed up some books that I knew I had no use for anymore and sent them into Amazon. It didn't cost me much to send them in and they were just going to take up space. So I figured I might as well see what I could get for them using Amazon's Fulfilled by Amazon program. As you know I have been investing $12.50 each week to grow my holdings of Hive Engine tokens. That includes staking Hive to reach my goal of Dolphin Status and increase my passive income from HE-Index.
Amazon sent $11.96 to my checking account this week. So my out of pocket is close to covered from selling a book or two that I had already sent to Amazon. Amazon fulfilled the order and sent me money. I still have books sitting there in an Amazon warehouse somewhere. It doesn't sound like much but it's a start. And I didn't have to go out and find the books. They were already sitting on my shelves. I just had to get off my butt and get them labeled and boxed up. Then I took them to the UPS store in town. Yeah, they take a chunk of money for that. But I look at it as outsourcing some of the work I would have to do here. Like customer service. They take care of that. It's worth it to me. And if it funds my little operation here that's another win.
My Out of Pocket Investment Went a Little Further This Week
I logged in to Coinbase to make my weekly buy of Litecoin. Every time I do this transaction I see that there is an option automate the buy to occur every week. I had been opting out of it. However, this time I didn't opt out. While I was in Coinbase I noticed that there were more videos to watch and earn some other cryptos.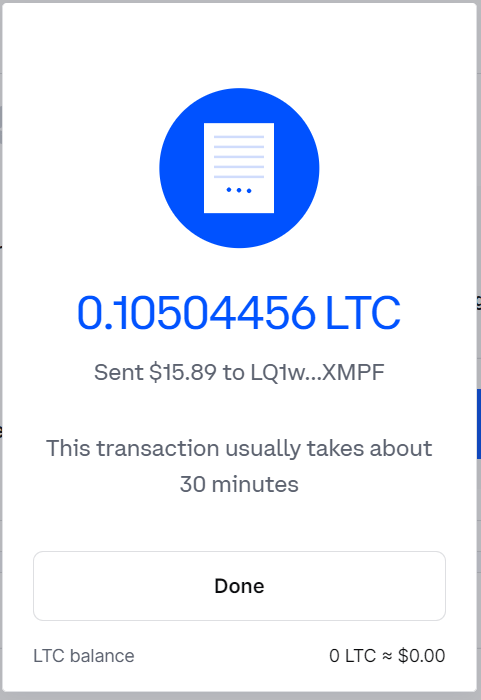 What I earned from viewing the videos and the FIAT I put in bought me just over 10 Hive this week.

I used the Swap Hive feature in Hivepay to send the Hive to my Hive Engine Wallet. Then I started looking for other coins to sell and see how much more Hive I could get. As it turned out I had some Voucher in my Hive Engine Wallet. The Voucher airdrops from Splinterlands restarted this week. The Voucher in my wallet was a dividend from my HE-Index holdings.
David Armstrong, @darmst5339, is a friend I have made in the Click Track Profit Community. He created a post a few days ago about finding Voucher that he didn't know he had.
https://peakd.com/hive-119826/@darmst5339/surprise-found-vouchers-on-beeswap-i-did-not-know-i-had
That is two of the reasons to be engaging on Hive. Making friends and learning from them. I went to my BeeSwap account and logged in with my Hive Keychain. At that point I had just over half of a Voucher. I let it sit there and this week there was 0.658 Voucher for me to sell for Hive. I had just sold the 0.769 Voucher from Index right before that. All told I ended up with around 18 Hive and used it to buy 22 more HE-Index tokens.


The CTP Token Staking Contest Is Still Going
Today I staked 143.065 more CTP tokens. I am just doing it because it's fun to see how much I can increase my stake of CTP. After the contest is over on the 22nd of this month I will probably power a bunch of that down. Jon and Blain from CTP are launching a new project on January 13th 2022. You can listen to last night's Thursday Night Live to learn why having liquid CTP will be important.
That is it for my update this week. Have a great Friday and see you again soon!